Manifesto of a Good Cripple
Tue 29 Oct 2019, 08:00 pm
Thu 31 Oct 2019, 08:55 pm
Basement Theatre
Auckland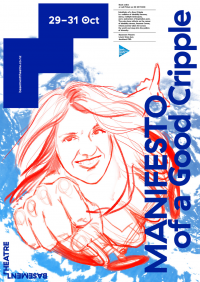 From the award winning choreographer, Suzanne Cowan, (Grotteschi, Touch Compass) comes a bold new autobiographical work, Manifesto of a Good Cripple. Through a powerful combination of dance, film and theatre Cowan brings together the essence of a 20 year dance career, subversive disability humour and a surreal dream/landscape that captures her experience of a fluid identity.
As the first disability artist to present an autobiographical show at the Basement Theatre, October, 29, 30 and 31, Cowan takes the audience on a journey of how identity and body become synonymous with the landcapes that we move through, not just as a backdrop but as a visceral etching into our cellular memory. The fragility of identity is a reccurring motif that Cowan embodies through her disruptive choreography.
From road tripping through the freezing, blizzard swept Canadian rockies to the highlights of performing at Queen Elizabeth Hall in London, Cowan reconfigures these experiences as a rich score of movement, sound, image and text imbued with her unique perspective crystallised in her Manifesto statement as the antidote to inspiration porn.
The filmic backdrop is derived from archival footage and photographs which locate Cowan's evolution as a performer and choreographer.
The solo work is supported by interdisciplinary collaborations with creative director, Lara Liew of 'Dynamotion', lighting designer, Sean Curham, choreographic adviser, Clare Luiten, video and projection editors, Alyx Duncan and Adam Luka Turjak, and sound design by Charlie Rose.