METAMORPHOSIS - BoyzDance2
Sun 07 Oct 2018, 06:00 pm
Sun 07 Oct 2018, 07:00 pm
Q Theatre
305 Queen Street
Auckland
Sun 07 Oct 2018, 08:30 pm
Sun 07 Oct 2018, 09:30 pm
Q Theatre
305 Queen Street
Auckland
Dance, Community, Arts Culture, Performing Arts
Wheelchair access, Accessible toilets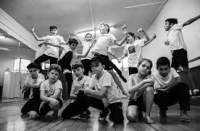 METAMORPHOSIS
From world champion hip hop crews to stellar international dance careers, BoyzDance2 was the beginning of it all for countless young boys who just wanted to dance. Twenty years on from its founding, the BoyzDance2 network is celebrating the global successes of its founding members and the ongoing community of support for boys making their mark on the world through dance.
METAMORPHOSIS brings to the stage four electric new creations alongside an energizing and humorous retrospective of BoyzDance2's most significant works over the past 20 years with an exhilarating cast of 30 boys aged 7-18 years old performing movement percussion, hip hop, contemporary, and haka fusion.
Under the creative direction of Richie Cesan (NZSD, ATC), six professional choreographers and former BoyzDance2 members - Andrew Cesan (Momentum Productions, CUDO), Joshua Cesan (Director and Principal Choreographer of IDCO, NEXT), Simon Watts (STOMP), Gareth Okan (NZDC), and Taniora Motutere (IDCO, Okareka, Atamira, Footnote) – contribute to METAMORPHOSIS, a celebration of how the power of dance can transform boys into men.
Event Dates
Sun 07 Oct 2018, 06:00 pm
Sun 07 Oct 2018, 07:00 pm
Sun 07 Oct 2018, 08:30 pm
Sun 07 Oct 2018, 09:30 pm