MANU HKG/Macau Tour 2019 GRADUATE TOUR Expression of Interest
Tue 29 Jan 2019, 09:00 am
7 days ago, Tue 12 Feb 2019, 05:00 pm
Expressions of interest close 12 February 2019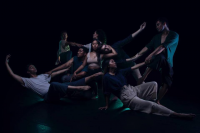 This year MANU (formerly MANU Collective) will be undertaking 2 international projects to engage with our Pacific and Māori dance community and provide performance and choreographic opportunities abroad. Previously, MANU worked with specifically Māori and Pacific Island (MPI) tertiary dance students, now we are working towards providing opportunities to connect, create, inspire and collaborate with our MPI and Kiwi dance graduates - creating a stronger, tight-knit community within the Contemporary dance industry in Aotearoa. Our graduate tour this year involves a trip to perform in Hong Kong, a collaboration between MANU and the Consulate General in Hong Kong, before taking part in the Macau International Youth Dance Festival (MIYDF) in Macau, China. We are looking for 25 dancers to represent our country and region abroad.
We understand that heading abroad to continents such as Asia, Europe and North America from New Zealand to take workshops, undertake auditions or travel can be financially difficult. We think it's important for the world to see more of our Kiwi dancers abroad and are offering an option to travel one way to HKG/Macau with MANU and from here to anywhere in the world. An option for this will be located below.
Proposed dates for the trip are as follows:
14th - 18th July, 2019 in Hong Kong (4 days)
19th - 25th July, 2019 in Macau, China (6 days)
Notice of acceptance into the tour will be emailed within two weeks from the 29th January 2019.
Note: This tour will require a $300 fee that covers logistical/admin/creative costs as well as a $250 deposit for flights (the flight deposit is refundable after the festival) - Therefore a total of $550 is due to be paid by 1st March 2019 unless discussed with the MANU team. Further details of instalments will be emailed to you with other relevant information if your application is successful.
An intensive rehearsal week to create the 2 small works will happen 2 weeks to a week before departure. More information on this will be revealed when acceptance emails are sent out. If weekly rehearsals were to commence, they would begin in April and be once a week.