LUMANA'I- the future - Expressions of Interest
Tue 01 Sep 2020, 09:00 am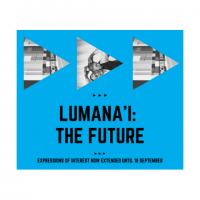 LUMANA'I: the future
We are calling for new proposals and ideas for a new future of projects and artists, commissioned and supported by Touch Compass
Lumana'i expressions of interest are now open and is now extended until midnight ►►►Friday 18 September !
Please note that programmed artists will be paid. You may respond via written answers or a pre recorded video
►►LUMANA'I: Expressions of interest for future projects
Mālo lava creatives,
Does your work straddle intersections? Is it unclassifiable? Then we want to hear from you!
Lumana'i supports the future of bright, intriguing new work.
With our revised kaupapa in mind, we would like to hear from anyone who has exciting, new projects. We want to support the development and creation of work. The ideas can be for live performance or a digital work. Lumana'i is our first programme in our commitment to supporting new work that is disability-led.
All artists involved do not need to be disabled.
What does disability-led mean?
It means the project is led by a person who has lived experience of disability. But the work does not need to be about one's disability or diagnosis.
Why the focus on disability-led and disabled artists?
We are shifting perspectives by purposefully identifying disability, disabled artists and their art and supporting the innovative potential in these communities.
What if I do not identify as disabled but I have lived experience?
We understand self identification. We ratify everyone's right to identify themselves the way they want. We actively promote the agency of language in self identification.
Does it have to be dance?
Touch Compass historically has created dance work but we are widening the scope of artists we support to include performance, other live art, and digital works. We also encourage stretching the definition of dance. Send in your ideas!
Does the project have to be about disability?
No, projects do not need to be about disability.
What is disability aesthetics?
It refers to the way disabled bodies move in space and redefines the disabled body and it's aesthetics in modern art. Many disabled artists are investigating how their bodies create as a creative tool and aesthetic.
What are we looking for?
We are looking for new innovative artist ideas and projects that are disability / D(d)eaf / sick and/or crip led.
What we are offering?
Touch Compass will support the creation of this new work through mentoring, production and fiscal support during development as well as sourcing future presenting opportunities. Development phase will occur in mid October through to November 2020.
Links & contact details:
Link to apply & more information on the Touch Compass website
The Kaupapa for this Expression of Interest
How to apply
You may respond via written answers or a pre recorded video Please email / phone / reach out if you have any questions or if the format of this proposal is inaccessible to you. Interim Artistic Director Pelenakeke Brown: pelenakeke@TouchCompass.org.nz or Interim Creative Producer Lydia Zanetti: producer@TouchCompass.org.nz Click on the link above to apply or contact us! Applications are welcome from anyone across Aotearoa or Aotearoa New Zealanders based overseas.