Kotahitanga Korikori Dance Movement Therapy for Empowerment Scholarship
Thu 19 Dec 2019, 09:00 am
Thu 30 Jan 2020, 05:00 pm

University of Auckland
Auckland
Applications Close 30 January 2020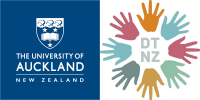 A Scholarship of up to $20,000 for New Zealand citizens and permanent residents enrolling in a Master of Dance Movement Therapy.
Applicable study: Master of Dance Movement Therapy
Opening date: 19 December
Closing date: 30 January
Tenure: Two years
For: Assistance with study
Number on offer: One
Offer rate: Biennially
Value: Up to $20,000 (see Reg. 2)
The Scholarship was established in 2019 and is funded by Dance & Arts Therapy New Zealand (DTNZ), a charity that empowers and supports vulnerable communities through dance movement and arts therapy.
The intention of the Scholarship is to encourage and support students, particularly students from Māori or Pacific backgrounds, undertaking a Master of Dance Movement Therapy programme at the University of Auckland who are intending to work closely with the Māori and Pacific community.