Just Dance Krazy
Fri 05 Oct 2018, 06:30 pm
Fri 05 Oct 2018, 07:30 pm
Q Theatre Loft
305 Queen Street
Auckland
Sun 07 Oct 2018, 06:30 pm
Sun 07 Oct 2018, 07:30 pm
Q Theatre Loft
305 Queen Street
Auckland
Dance, Performing Arts, Community, Arts Culture
Wheelchair access, Accessible toilets, Mobility parking
Dance Aotearoa New Zealand
Tempo Dance Festival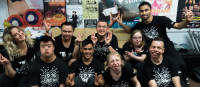 JDK Dance Crew
Just Dance Krazy is a celebration of JDK's journey that began as a love for dance that has transformed into a life of dance. JDK performs alongside an impressive gathering of dancers and dance groups who have inspired them along the way – New Zealand School of Dance, The Palace Dance Studio, and Rodney Bell and Julie van Renen from Touch Compass Dance Company.
Founded in 2010 as a collective of dancers with learning difficulties and a passion for hip hop, JDK today is made up of 7 dancers including Jacob Dombroski fresh from his award-winning show Big J Stylez (Grand Design Award, Centrepoint Theatre Award). Following their inaugural show presented at Hannah Playhouse as part of 2018 New Zealand Dance Week, the group have formed a collaboration with Touch Compass Dance Company to present Just Dance Krazy as part of Tempo Dance Festival.
JDK are living proof of the positive benefits that dance has on community, physical health, mental well-being and the spirit. Their debut at Tempo Dance Festival, is an inspiring showcase of inclusive performance that demonstrates the powerful force of dance to move, inspire and transform lives. Dance for life, dance for all but above all… Just Dance Krazy!
Event Dates
Q Theatre Loft
Auckland
305 Queen Street

Fri 05 Oct 2018, 06:30 pm
Fri 05 Oct 2018, 07:30 pm
Q Theatre Loft
Auckland
305 Queen Street

Sun 07 Oct 2018, 06:30 pm
Sun 07 Oct 2018, 07:30 pm