Java Dance- The Metamorphosis Trail - Hawkes Bay Arts Festival
8 days ago, Fri 16 Oct 2020, 01:00 pm
Hastings Community Arts Centre
Hastings
Hawkes Bay
Dance, Contemporary, Free Entry Event, Music, Hawkes Bay Region,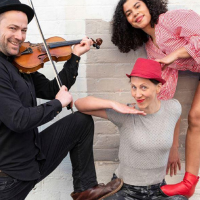 During lockdown Java Dance Theatre under the leadership of Sacha Copland, became a matchmaker, pairing more than 50 professional dancers with musicians together for Zoom duets and trios.
Over the course of 5 weeks 101 duets took place on-line between artists from all over New Zealand, Australia, Singapore and South Korea.
Now the makers of Back of the Bus return to Hawke's Bay to create The Metamorphosis Trail just for you.
Dancers suspend from balconies and the sound of live music draws you into secret places in your own city. Colourful characters and ordinary places will transform before your very eyes.
Featuring Hawke's Bay's own Joe Dobson, Mere Boynton, students from EIT and special guests. The Metamorphosis Trail is a celebration of public spaces, hidden places and our ability to transform as the world around us changes.
Join us to follow the trail and be transported to another world in your very own neighbourhood.
Sacha Copland is the 2019-21 Creative NZ Choreographic Fellow