Initiate Dance Holiday Programme April 2019
Mon 15 Apr 2019, 09:00 am
Thu 18 Apr 2019, 04:00 pm
Kelston Community Centre
126 Awaroa Road, Glendene, Auckland
Auckland
Dance, School holiday, Contemporary dance
Bookings are essential. Places are limited, so boo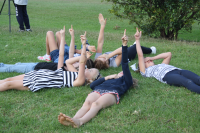 Dance away the holidays and join in the fun! Over four days in April 2019 learn a variety of dance techniques and routines with fun games and team building activities.
​The Initiate Dance Holiday Programme, supported by the Auckland Council, is all about engaging young people in a positive way during the school holidays.

Students will finish the week with a fun performance for family and friends on Thursday 18th April at 3.30pm.
The programme is open for any students aged 8 to 12 years old.
Book today at a very low price of only $60 for the full programme.
Bookings are essential. Places are limited, so book now!