GRADUATION SEASON 2018- New Zealand School of Dance
Wed 21 Nov 2018, 07:30 pm
Sat 01 Dec 2018, 07:30 pm
Te Whaea: National Dance & Drama Centre
11 Hutchison Road, Newtown
Wellington
Wheelchair access, Accessible toilets, Mobility parking
$18 to $35 (one performance)
New Zealand School of Dance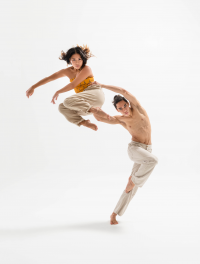 Classical ballet. Contemporary dance.

Two eclectic dance programmes, alternating throughout the season.
The New Zealand School of Dance presents remarkable choreography in an eclectic Graduation Season marking the 20th anniversary of the School's Director, Garry Trinder.
Graduation Season brings together the hard work of accomplished students and distinguished tutors in two outstanding productions of classical ballet and contemporary dance, alternating each night throughout the season of 12 performances.
Be in the theatre when the curtain rises on the next generation of dance talent. These exhilarating performances will be a must-see on Wellington's vibrant arts calendar.
Performances:
Tradition (Classical Programme)
7.30pm Wednesday 21 November
7.30pm Friday 23 November
2.00pm Saturday 24 November (matinee)
7.30pm Wednesday 28 November
7.30pm Friday 30 November
7.30pm Saturday 1 December
Innovation (Contemporary Dance Programme)
7.30pm Thursday 22 November
7.30pm Saturday 24 November
2.00pm Sunday 25 November (matinee)
7.30pm Tuesday 27 November
7.30pm Thursday 29 November
2.00pm Saturday 1 December (matinee)
Book for one of the programmes or receive a season ticket discount to see both
Tickets - one performance:
$35 Adult
$25 Student / Senior / Group10+
$18 Child under 13
Season Ticket - both programmes:
$66 Adult
$47 Student / Senior / Group10+
$33 Child under 13