From Residence - DANZ Dance Residency Showing at Ōtautahi Tiny Performance Festival
Sat 30 Nov 2019, 11:00 am
Sat 30 Nov 2019, 11:30 am
CoCA - Centre of Contemporary Art
66 Gloucester Street
Christchurch
Dance, Contemporary, Professional Development, Canterbury Region
$12-$15, or $120 for a Day Pass to the Festival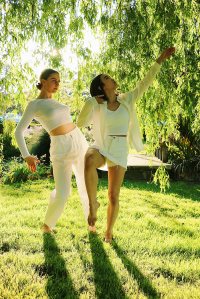 Dance Aotearoa New Zealand (DANZ) and The Arts Centre of Christchurch, presents the DANZ Dance Residency.
The DANZ Dance Residency provides a local dance practitioner with the opportunity to expand and explore their choreographic expression in a supported environment.
This is the first time the residency has been delivered in Ōtautahi.
The selected artist in residence will present an informal showing and forum based on the process of the two week residency. This residency is proudly supported by DANZ, The Arts Centre of Christchurch, Creative New Zealand, and Movement Art Practice (MAP).
About the selected Resident: Olivia O'Brien
Raised in Christchurch, Olivia studied with Garmonsway School of Dance and Hagley Dance Company before moving to Auckland where she is in her final year at Unitec in the Bachelor of Performing and Screen Arts (Contemporary Dance).
Olivia will be based at The Arts Centre from 18 - 29 November 2019 and will have the opportunity to work with assigned dancers and to have access to a dance mentor throughout the two-week period of the residency. At the end of the residency she will present the work she has created at a showing at the Ōtautahi Tiny Performance Festival. She will also facilitate a workshop at The Arts Centre.
Olivia's residency project, From Residence, will be developed as a duet on her residency dancers, and will explore her interest in making work that pushes boundaries, provoking and subverting expectations through well crafted, dynamic and virtuosic movement. As an emerging artist, choreographer and member of the newly established Mammoth Dance Productions, it is important for her to maintain the momentum that she has gained from Unitec and take any opportunity to practice making, developing and crafting work.