Footnote 2018 Intensive
Tue 16 Oct 2018, 09:00 am
Sat 20 Oct 2018, 03:30 pm
Footnote New Zealand Dance
125 Cuba Street Te Aro
Wellington
Dance, Intensive, Workshops
Applications close 15 September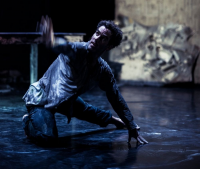 Attention all dancers and makers! The time has come for us to announce our 2018 Intensive and invite you to join us for a week of exploration and sharing. From Tuesday 16th October to Saturday 20th October, Ross McCormack will lead Intensive participants through daily workshops exploring an interest in performance energy. In preparation for the afternoon workshops, Claire O'Neil will teach morning class and guide participants through movement training and creative practice. Both members of Footnote's Artistic Advisory Panel, Ross and Claire have a wealth of experience between them, and this intensive is designed to create a welcoming environment for you to challenge your practice and learn from these two knowledgeable artists.
There are only ten spots available for this Intensive, so registration will be by application. To apply, please complete the online application form below by 5pm on Friday 14th September.
Click here for online application.
Timetable
Tuesday 16th – Saturday 20th October
9am – 10.30am: Morning class with Claire O'Neil
10.45am – 12.45pm: Workshop 1 with Ross McCormack
1.30pm – 3.30pm: Workshop 2 with Ross McCormack
Cost: $195
Workshops
Velocity: A consideration of speed with Ross McCormack
Morning Class
Dance Training & Creative Practice: Moving Consciously, Thinking Diversely, Performing Intentionally with Claire O'Neil