Flamenco Dance Beginners Course
View all Dates
Tue 14 Jul 2020, 05:30 pm
Tue 14 Jul 2020, 06:30 pm
Toi Poneke Arts Centre
61/69 Abel Smith Street
Wellington
Tue 21 Jul 2020, 05:30 pm
Tue 21 Jul 2020, 06:30 pm
Toi Poneke Arts Centre
61/69 Abel Smith Street
Wellington
Tue 28 Jul 2020, 05:30 pm
Tue 28 Jul 2020, 06:30 pm
Toi Poneke Arts Centre
61/69 Abel Smith Street
Wellington
Tue 04 Aug 2020, 05:30 pm
Tue 04 Aug 2020, 06:30 pm
Toi Poneke Arts Centre
61/69 Abel Smith Street
Wellington
Tue 11 Aug 2020, 05:30 pm
Tue 11 Aug 2020, 06:30 pm
Toi Poneke Arts Centre
61/69 Abel Smith Street
Wellington
Tue 18 Aug 2020, 05:30 pm
Tue 18 Aug 2020, 06:30 pm
Toi Poneke Arts Centre
61/69 Abel Smith Street
Wellington
Wheelchair access, Mobility parking
Try the first class for free $210 for the course or $15 per class
Desde Sevilla Flamenco Dance Company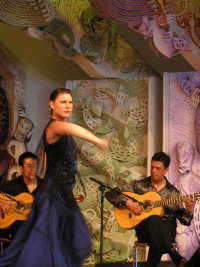 Are you drawn to the pounding rhythms and sensuous grace of flamenco dance? Now is your chance to learn this passionate art form in a fun environment with Wellington's own aficionado Jessica Garland and flamenco guitarists Mark Edwards and Bill Nichol.
Absolute dance beginners, curious rhythm-seekers and flamenco aficionados all welcome.
To register or for more information contact Jessica
jessica.garland@gmail.com or 020 4162 9185
About the classes
All genders and ages are welcome. Wear shoes ideally with a broad, strong heel (no stilettoes) and comfortable clothes. The block course will focus on learning technique, compás (rhythm) and two short choreographies (tangos and bulerias). The classes will run every Tuesday from 10 March - 18 August, except July school holidays.
About us
Jessica Garland
Under her mother's tutelage, Jessica started dancing flamenco at the age of 16. At a young age, she travelled to Spain and studied full-time under leading flamenco artists. On her return, she taught and performed around Aotearoa as part of Desde Sevilla Flamenco Dance Company. Now, following 12 years in London, she is keen to help grow and sustain the flamenco community in Pōneke and beyond.
Mark Edwards
Mark has been an aficionado of flamenco for more than 30 years. He has studied flamenco guitar in New Zealand, Australia and Spain and has performed in many concerts. Mark is a member of the Desde Sevilla Flamenco Dance Company and is keen to promote, inspire and help others to become part of the great art form of Flamenco.
Bill Nichol
Discovering Flamenco guitar while studying Classical in London, Bill moved to Spain to study with teachers in Madrid, Seville and Jerez. He now maintains his addiction with frequent trips between Wellington and Andalucía. ¡Anda!
Event Dates
Toi Poneke Arts Centre
Wellington
61/69 Abel Smith Street

Tue 14 Jul 2020, 05:30 pm
Tue 14 Jul 2020, 06:30 pm
Try the first class for free $210 for the course or $15 per class
Toi Poneke Arts Centre
Wellington
61/69 Abel Smith Street

Tue 21 Jul 2020, 05:30 pm
Tue 21 Jul 2020, 06:30 pm
Try the first class for free $210 for the course or $15 per class
Toi Poneke Arts Centre
Wellington
61/69 Abel Smith Street

Tue 28 Jul 2020, 05:30 pm
Tue 28 Jul 2020, 06:30 pm
Try the first class for free $210 for the course or $15 per class
Toi Poneke Arts Centre
Wellington
61/69 Abel Smith Street

Tue 04 Aug 2020, 05:30 pm
Tue 04 Aug 2020, 06:30 pm
Try the first class for free $210 for the course or $15 per class
Toi Poneke Arts Centre
Wellington
61/69 Abel Smith Street

Tue 11 Aug 2020, 05:30 pm
Tue 11 Aug 2020, 06:30 pm
Try the first class for free $210 for the course or $15 per class
Toi Poneke Arts Centre
Wellington
61/69 Abel Smith Street

Tue 18 Aug 2020, 05:30 pm
Tue 18 Aug 2020, 06:30 pm
Try the first class for free $210 for the course or $15 per class