FRESH 2018
7 days ago, Sat 13 Oct 2018, 06:30 pm
7 days ago, Sat 13 Oct 2018, 07:20 pm
Q Theatre
305 Queen Street
Auckland
6 days ago, Sun 14 Oct 2018, 06:30 pm
6 days ago, Sun 14 Oct 2018, 07:20 pm
Q Theatre
305 Queen Street
Auckland
Wheelchair access, Accessible toilets
Tempo Dance Festival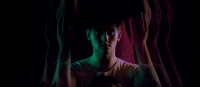 Emerging choreographers showcase
Presented as part of Tempo Dance Festival 2018
Tempo's FRESH choreographers showcase is an annual platform for emerging artists to create and present new ideas. This year's artists Gemma-Jayde Naidoo, Xavier Breed, Ufitia Sagapolutele and Duchess have stepped up to the challenge to create new works with choreographic mentoring from Cat Ruka.
Bringing to light the many facets of femininity: beauty, strength and destruction. We are complex, we are creators, we are limitless.
Where are we going, why are we going, who do we take along with us on this journey?
Event Dates
7 days ago, Sat 13 Oct 2018, 06:30 pm
7 days ago, Sat 13 Oct 2018, 07:20 pm
6 days ago, Sun 14 Oct 2018, 06:30 pm
6 days ago, Sun 14 Oct 2018, 07:20 pm