Dance for Parkinson's Free Class
Sun 09 Sep 2018, 11:00 am
Sun 09 Sep 2018, 01:00 pm
Te Whaea
11 Hutchinson Road Newtown
Wellington
Tue 11 Sep 2018, 10:00 am
Tue 11 Sep 2018, 12:00 pm
Impact Dance and Stage School
450 Tuam Street
Christchurch
Wed 12 Sep 2018, 10:30 am
Wed 12 Sep 2018, 11:30 am
Mosgiel Prespbytarian Church
11 Church Street Mosgiel
Dunedin
Thu 13 Sep 2018, 01:00 pm
Thu 13 Sep 2018, 03:00 pm
Sunnynook Community Centre
148 Sycamore Drive Sunnynook
Auckland
Fri 14 Sep 2018, 10:00 am
Fri 14 Sep 2018, 12:00 pm
St Barnabas Church Hall
283 Mount Eden Road Mount Eden
Auckland
Dance, Community, Conferences Workshops Classes, Free Entry Event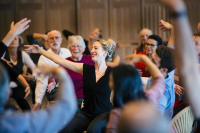 Come and experience the joys and benefits of dance!
Dance for Parkinson's is offering free community classes around New Zealand taken by Erica Rose Jeffrey PhD.
Please indicate if you are coming to the class so that we can make sure everyone is catered for.
Please also make sure you're wearing clothes that you can move and groove in.
Come along and experience this wonderful opportunity of a Dance for PD class from an international teacher.
There will be light refreshments on offer after.
Wellington: Sunday, the 9th of September - 11am-1pm - Te Whaea: National Dance & Drama Centre, 11 Hutchison Rd, Newtown.
Christchurch: Tuesday, the 11th of September - 10am-12pm - Impact Dance & Stage School, 450 Tuam Street.
Dunedin: Wednesday, 12 September - 10.30am-11.30am - Mosgiel Presbyterian Chruch, 11 Church Street, Mosgiel.
Auckland:
Thursday, 13 September - 1pm-3pm - Sunnynook Community Centre, 148 Sycamore Drive, Sunnynook.
Friday, 14 September - 10am-12pm - St Barnabas Church, Mt Eden.
Event Dates
Te Whaea
Wellington
11 Hutchinson Road Newtown
View on map
Sun 09 Sep 2018, 11:00 am
Sun 09 Sep 2018, 01:00 pm
Impact Dance and Stage School
Christchurch
450 Tuam Street
View on map
Tue 11 Sep 2018, 10:00 am
Tue 11 Sep 2018, 12:00 pm
Mosgiel Prespbytarian Church
Dunedin
11 Church Street Mosgiel
View on map
Wed 12 Sep 2018, 10:30 am
Wed 12 Sep 2018, 11:30 am
Sunnynook Community Centre
Auckland
148 Sycamore Drive Sunnynook
View on map
Thu 13 Sep 2018, 01:00 pm
Thu 13 Sep 2018, 03:00 pm
St Barnabas Church Hall
Auckland
283 Mount Eden Road Mount Eden
View on map
Fri 14 Sep 2018, 10:00 am
Fri 14 Sep 2018, 12:00 pm