Dance Hall & Afro-Fusion with Antonio Bukhar
Fri 09 Aug 2019, 07:00 pm
Fri 09 Aug 2019, 08:00 pm
Pump Dance Studio
302 Taranaki Street
Wellington
Sat 10 Aug 2019, 06:00 pm
Sat 10 Aug 2019, 07:00 pm
Pump Dance Studio
302 Taranaki Street
Wellington
Sun 11 Aug 2019, 12:00 pm
8 days ago, Sun 11 Aug 2019, 01:00 pm
Aro Valley Community Centre
Aro Street
Wellington
Dance, Conferences Workshops Classes,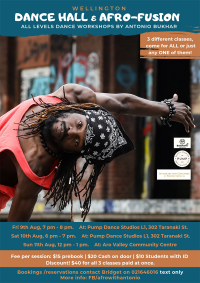 Hundleby and Chalmers Productions and friends in collaboration with Dancehall and Afro-Fusion in Auckland along with Go Bachata, Pump Dance Studios and Aro Valley Community Centre presents Master Dancer and Choreographer Antonio Bukhar in Wellington!!!! Antonio is from Uganda and has traveled all the way to Aotearoa to be the current Caroline Plummer Fellow in Community Dance at the University of Otago.
Calling all dancers, creatives, and community in WELLINGTON to a Dance Hall and African Fusion feast that will inspire and uplift the soul!!!
Fee per session: $15 prebook / $20 on the door / $10 student with ID
Discount! $40 all three sessions
Bookings/reservations contact Bridget on 021646016 (text only).
More info at FB/afrowithantonio
The first two workshops are held @ Pump Dance Studios on Friday 9th August at 7.00-8.00pm and Saturday 10th August from 6.00pm - 7.00pm (Level 1, 302 Taranaki Street) Wellington City.
The third (3rd and final workshop) is being held at Aro Valley Community Hall from 12.00pm - 1.00pm (48 Aro Street, Aro Valley).
Event Dates
Pump Dance Studio
Wellington
302 Taranaki Street
View on map
Fri 09 Aug 2019, 07:00 pm
Fri 09 Aug 2019, 08:00 pm
Pump Dance Studio
Wellington
302 Taranaki Street
View on map
Sat 10 Aug 2019, 06:00 pm
Sat 10 Aug 2019, 07:00 pm
Aro Valley Community Centre
Wellington
Aro Street
View on map
Sun 11 Aug 2019, 12:00 pm
8 days ago, Sun 11 Aug 2019, 01:00 pm