CubaDupa 2020 Expressions of Interest - Artist Applications
Fri 05 Jul 2019, 12:00 am
Fri 02 Aug 2019, 05:00 pm
Expressions of Interest close 2 August 2019.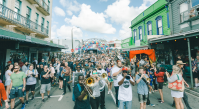 CubaDupa 2020
Expressions of Interest / Artist Applications
CubaDupa has developed into an extraordinary festival of the street that has it's own unique character and place. We are looking for creative work and ideas that:
Respond to the street and the Cuba precinct environment
Are high quality and innovative
Are surprising, entertaining, fun and engaging for audiences.
We welcome proposals for new works, or the development and re-presentation of existing works. This is a curated festival and we are looking to programme:
Stage Music
Promenading, Roaming and Street Performances
Creative Technology Projects
Family Focused Activities, Performances, and Installations
Site Specific Installations and Performances
Street Décor; Street Art, Costumes and Installations
We advise you to have a quick read through the form to see what information we require from you, as the information needs to be submitted in one sitting. And here are a few quick points that are worth bearing in mind for your application:
Our vision for CubaDupa is to celebrate the epic creativity of the Cuba precinct and wider Wellington creative community and we aim to be the most extraordinary, participatory and creative street festival in Australasia and beyond
We are a festival of the street, and programme artists and projects that respond to the unique Cuba St environment
We programme local, national and international WORLD CLASS acts
We are VERY interested in programming 'creative technology' projects
We aim to have more visual arts and installations in 2020
We encourage shows/projects that have been curated or put together especially for CubaDupa
Innovative ideas that engage and encourage participation and lead to deeper connections within the festival
We encourage projects involving 'mass music' with as many members as possible
We encourage many different communities and cultural groups to apply
It is very important for performing artists to have good quality support material such as live footage on Youtube and to include these links in the EOI
We prefer not to programme groups two years in a row

Expressions of Interest close on the 2nd of August 2019.