Contact-Improvisation-Classes-and-Jams
Thu 24 Jan 2019, 06:30 pm
Thu 14 Mar 2019, 08:45 pm
Dance Studio at Toi Poneke Arts Centre
69 Abel Smith Street, Te Aro, Wellington
Wellington
Dance, Arts Culture, Professional Development, Community
Wheelchair access, Accessible toilets, Mobility parking
$16 Class & Jam, $90 Six Classes and Jams, $10 Jam only contactimprovisation.floktu.com
Open to all levels including beginners.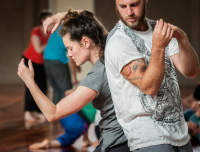 Info on classes and jams in Wellington
Contact Improvisation Classes and Jams run weekly at the dance studio at Toi Poneke Arts Centre, 69 Abel Smith Street, Wellington from 6.30pm to 8.45pm starting January 24th 2019. They're open to beginners, intermediate and professional level dancers.
Pre booking and registration is essential and closes on Thursday January 17th. Contact Juliet for more info on motionbeing@gmail.com or 021 156 4082 if you want to come to classes after this date.
Where we're dancing Contact Improvisation
What is Contact Improvisation?
Contact Improvisation is an evolving system of movement initiated in 1972 by American choreographer Steve Paxton. This improvised dance form is based on the communication between two moving bodies that are in physical contact and their relationship to the physical laws that govern their motion. The body, in order to open to these sensations, learns to release excess muscular tension and abandon a certain quality of wilfulness in order to experience the natural flow of movement. Practice includes rolling, falling, being upside down, following a physical point of contact, supporting and giving weight to a partner.
More info on Contact classes and jams
We're looking forward to seeing you and dancing with you soon.
All info: Juliet Shelley 021 156 4082 motionbeing@gmail.com