Chocolate - Java Dance Company
Tue 09 Jul 2019, 07:30 pm
Sun 14 Jul 2019, 05:00 pm
Tapere Iti
Te Auahu 65 Dixon Street
Wellington
Wheelchair access, Accessible toilets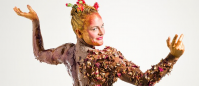 It's time to taste. We bring you inside a rich dark chocolatey story. Dance. Theatre. Lush live Music. Cacao pods burst, melted chocolate flows and cravings surge. Immerse yourself in cacao, conflicting desires, the anticipation of tasting and wild sensory dance.
Follow the journey from gold wrapped chocolate bar back to cacao bean and beyond. See dreams fulfilled and expectations rise as our desire for more increases with each bite.
A brand new work from Java's delicious Artisan Series (RISE, The Wine Project, The Creamery), choreographed by 2019 Creative NZ Fellow Sacha Copland with original live music by Tristan Carter and Charley Davenport. "Java Dance Theatre is in demand – it's quite possibly the hottest thing to hit New Zealand audiences."(www.theatreview.org.nz).
With thanks to Wellington Chocolate Factory, Creative NZ, Wellington City Council and La Petite Chocolat.