Becoming Masina - DocEdge Festival
Fri 12 Jun 2020, 12:00 am
47 hours ago, Sun 05 Jul 2020, 11:00 pm
Dance, Film Media Entertainment, Festivals Arts, All New Zealand,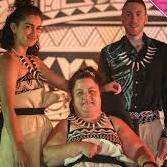 All short films in the festival are free thanks to Chorus and are available from 12 June – 5 July.
It takes bravery and guts to perform on stage in front of an audience… but Lusi does it all the time.
Despite growing up with a disability, Lusi Faiva breaks barriers as a physically challenged dancer and actor in the theatre world. In this short documentary, we get a glimpse at the creation and progression of her latest project; the sensory-immersive theatre production called Masina Returning Home.
Previous festival selections include:
Changing Face International Film Festival: Semi-Finalist
Doc Edge Shorts are also supported by Shift72.