Beauty and The Beast - Victoria State Ballet
Sun 29 Mar 2020, 07:30 pm
Fri 20 Mar 2020, 09:30 pm
Opera House
113-111 Manners Street Te Aro
Wellington
Dance, Ballet, Family, Conferences Workshops Classes
Wheelchair access, Accessible toilets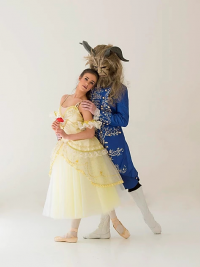 A full length classical ballet production of the traditional fairy-tale story.
Following Australian nationwide sell-out seasons, Beauty & the Beast returns to stage in 2020! A must see stunning full length classical ballet production of the traditional fairy-tale story!
Featuring internationally recognized artists in leading roles in a rich display of outstanding skill! One of the world's most loved fairy tale classics is retold through a superb production featuring classical ballet skill and choreography which honour the spirit of this magical work - an inspiring, impacting, entertaining and memorable experience for the whole family!
The Victorian State Ballets 'Beauty & the Beast' features a top cast of leading classical ballet artists from across Australia and abroad. The choreography is rich with vibrant colour, virtue, sensibility, grace, intrigue and outstanding skill. VSB's 'Beauty & the Beast' endeavors to immerse the audience right in amidst the fairy tale classic in a profound experience that is exhilarating, impacting and visually inspiring.
Don't miss out on seeing all your favourite characters plus exhilarating solos and pas de deuxs from the stunning leading couple, the very moving transformation, grand waltz and ultimate happily ever after final scene! This is classical ballet at its finest! Come and experience this amazing production!
***Featuring - Meet & Greet the Cast after the show***
Running time – 2 hours including interval
***Announcing a special free dance workshop event to prior to the performance including Q & A time!***
We are very excited to offer our special dance workshop to dance student ticket holders on stage prior to the performance. The workshop will be based on classical ballet with the dancers of the Victorian State Ballet present in the class. The workshop will be given by Artistic Director – Michelle Sierra. Parents and dance teachers of the students are welcome to sit in the audience and observe. At the end of the workshop there will be a Q & A session where we invite the participants and audience to ask the company dancers' questions and that they receive some wonderful insight into the professional ballet world.
Details– 5:15pm– 6:30pm on stage. Participants are to be present in the theatre foyer at 5:00pm. Venue – Opera House, 111-113 Manners Street, Te Aro, Wellington on stage
Date – Friday 20th March 2020
Ages – 9 years to 17 years, boys and girls (divided into groups on stage) Attire – suitable dance attire
Pre-requisite – Must have purchased a ticket to the performance of Beauty & the beast
Register – registration is essential - email us at admin@victorianstateballet.org.au
'I adored every second and was completely overwhelmed' Dance Informa
'This demonstrated the absolute power Victorian State Ballet has over the creative dance Industry in Australia' Dancetrain
'Every aspect of the performance excelled a work to remember for years to come' Dance Australia
'Passion, energy and elegance, a sheer delight! Well-crafted and beautifully choreographed by Michelle Sierra with passion, energy and elegance, a sheer delight!' Adelaide
'Victorian State Ballet's take on Beauty & the Beast wonderfully appealed to the magical world we know of Walt Disney's construction' Melbourne