Artist & Creatives - Expression of Interest
Thu 27 Aug 2020, 09:00 am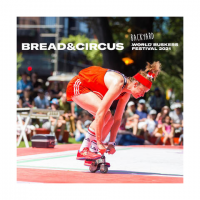 BREAD & CIRCUS WILL RETURN TO CHRISTCHURCH, JANUARY 2021.
CALL FOR EXPRESSIONS OF INTEREST & FESTIVAL IDEAS NOW OPEN.
Bread and Circus – World Buskers Festival, the cornerstone of the Christchurch summer event landscape is proud to announce that it will be returning to the heart of Christchurch in January 2021 with a special home-grown edition; Bread and Circus Backyard Buskers Festival.
The 2021 festival will feature the best hand-picked local artistic talent and is the perfect way to celebrate the rich and diverse artistic culture that Christchurch has on its doorstep. The 2021 festival will see a focus on busking pitches, iconic Christchurch venues, local food and beverage providores and free outdoor entertainment to be enjoyed by the whole family.
Bread & Circus is taking artistic and creative submissions to be part of the festival in the summer of 2021. We're looking for fresh ideas, event concepts, artistic proposals, and performances from any individuals or companies. No idea is too big or too small, we want to hear it!
We're taking applications from buskers, roving artists, ticketed productions, visual artists, workshops, talks, interactive art or other creative endeavours.
Links & contact details: Bread & Circus - World Buskers Festival
How to apply Please apply by clicking the form link here.
Applications close 17 September 2020. If you have any queries, you can direct them to info@breadandcircus.co.nz