ASPiRE- A Senior Dance Production
Sat 22 Sep 2018, 04:00 pm
Sat 22 Sep 2018, 05:00 pm
TAPAC (The Auckland Performing Arts Centre)
100 Motions Road, Western Springs, Auckland, New Zealand 1022
Auckland
Wheelchair access, Accessible toilets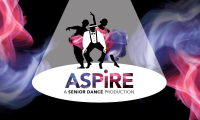 A Senior Dance Production Presented by Northern Dance Network. ASPiRE is a show with all kinds of dance, from jazz funk to Asian, from Flamenco to contemporary, ballroom to French folk dance. There's something for everyone and all performed by seniors, some of whom are in their 80's.

Older people dancing is part of the growing phenomena of "Creative Ageing", a concept known in many parts of the world but relatively new to Aotearoa. That's all about to change with the launch of ASPiRE – a show to be performed by community dancers in their senior years.

Northern Dance Network (NDN) is presenting this production and their catchphrase is "All kinds of dance for all kinds of people". NDN is well known for the YouDance Festival for youth dancers which has been running for seven years. This year NDN added Chance to Dance - a day of free dance classes- in association with Auckland Live and DANZ. And now ASPiRE is about to be launched.

ASPiRE will truly show the world – well a small part of Auckland and especially the dance community - that one is ever too old to dance. As one wag has said "You don't stop dancing because you grow old, you grow old because you stop dancing!"

Tickets are expected to sell out fast, so book early and don't wait to buy on the afternoon of the show!
Booking: https://www.tapac.org.nz/whats-on/aspire
Sponsored by Dance Aotearoa New Zealand, Creative New Zealand and Foundation North