A Call to Dance - Tauranga Arts Festival
Fri 25 Oct 2019, 10:00 am
Sun 27 Oct 2019, 02:00 pm
Booking essential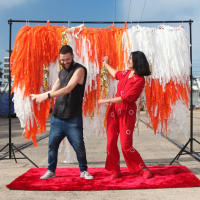 Creator & Performer Amrita Hepi. Produced by Performing Lines.
Amrita Hepi is a First Nations choreographer and dancer from Bundjulung (Aus) and Ngapuhi (NZ) territories. Her practice at present is interested in probing ideas of authenticity, the perpetuation of culture, tradition, and a 'decolonial imagination' - and questioning where this now resides.
Join Amrita for a one-on-one fun and free yarn about heritage, belonging, public expression and cultural authenticity. Together you'll have a fun and open conversation about some big issues facing us all, and come up with a small movement of personal rebellion: a move that's all about you.
At the end of her residency, on Sunday, October 27 at 1pm, Amrita will create a performance that captures the character and people of
Tauranga Moana.
TAURANGA ART GALLERY CONVERSATION SESSIONS: Fri 25 and Sat, 26 at 10am, 10.45am, 11.30am, 12.15pm, 2.15pm, 3pm.
Free Admission but booking essential.
DAILY PERFORMANCE: Fri 25 4.15pm for 5 mins and Sat 26 4.15pm for 5 mins.
FINAL PERFORMANCE: Sun 27 1pm for 12 mins
Supported by the Australian Government and Australia Council for the Arts.