A Call to Dance - Nelson Arts Festival
Mon 21 Oct 2019, 10:00 am
Wed 23 Oct 2019, 03:00 pm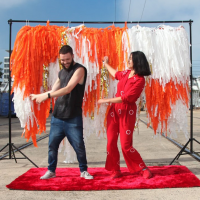 Join acclaimed choreographer and dancer Amrita Hepi for a fun, free, one-on-one yarn, and together you'll create a small moment of personal rebellion: a move that's all about you.
Ideas … land … bodies – who owns them and who gets to use them? This work celebrates a place and its people, asking questions about heritage, belonging, public expression and cultural authenticity.
Having had several outings at Australian festivals, A Call to Dance is setting out to spread its infectious charm and joy, one dance move at a time.
If you would like to be part of A Call to Dance, email info@nelsonartsfestival.nz
On Mon 21 & Tue 22, Hepi will perform the moves discovered that day. On Wed 23 she will create a performance that celebrates the character and moments of rebellion in our city.
"Hepi uses the body as a springboard for the ultimate archive." ARTSHUB
"[Hepi] morphed into my daggy try-hard dancing. I laugh and laugh. Which is okay, 'cause she's laughing too – laughing with the happiness I used to feel back in the day when it was me owning those moves." BLAK CRITICS
Proudly supported by Australia Council for the Arts