2018 Youth Spring School - The New Zealand Dance Company
Mon 08 Oct 2018, 09:00 am
Sat 13 Oct 2018, 04:00 pm
Wellesley Studios
113 Wellesley Street Auckland Central
Auckland
Dance, Performing Arts, Seasonal Holiday, Arts Culture
Wheelchair access, Accessible toilets, Mobility parking
The New Zealand Dance Company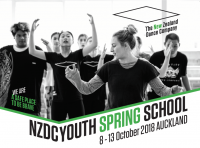 Join us for this highly sought-after opportunity to learn contemporary dance techniques and explore choreographic processes from NZDC dancers. Our 2018 Youth Spring School offers daily classes in contemporary dance, hip hop & fusion styles and explores improvisation and choreography.
Held at the home of NZDC at the world-class Wellesley Studios, the 2018 Youth Spring School runs daily from 8 - 12 October, 9 am - 4 pm.
After an exciting week of classes, students will present a performance to the public at the Auckland War Memorial Museum on Saturday 13th October.
A fantastic school holiday dance program that is sure to challenge and inspire while developing new skills in training and performance.
Dates: Monday 8th October – Saturday 13th October
Times: 9am – 4pm
Location: Wellesley Studios, 133 Wellesley Street West, Auckland Central
Ages: Students, 12+ years
Cost: *$350
REGISTER NOW FOR SPRING SCHOOL
* NZDC is able to offer a limited number of part and full financial scholarships for the 2018 Youth Spring School with many thanks to the Mazda Foundation. If you wish to apply for a scholarship, please email tammi.butterworth@nzdc.org.nz for an application form or call 09 378 7361.
Spring Scholarship applications close on 28 September 2018 - apply now!