10 Minute Dance Parties - Auckland Live Summer in the Square
6 hours ago, Mon 20 Jan 2020, 01:30 pm
Mon 20 Jan 2020, 09:10 pm
Tue 21 Jan 2020, 01:30 pm
Tue 21 Jan 2020, 09:10 pm
Wed 22 Jan 2020, 01:30 pm
Wed 22 Jan 2020, 09:10 pm
Thu 23 Jan 2020, 01:30 pm
Thu 23 Jan 2020, 09:10 pm
Fri 24 Jan 2020, 01:30 pm
Fri 24 Jan 2020, 09:10 pm
Sat 25 Jan 2020, 01:30 pm
Sat 25 Jan 2020, 09:10 pm
Sun 26 Jan 2020, 01:30 pm
Sun 26 Jan 2020, 09:10 pm
Mon 27 Jan 2020, 01:30 pm
Mon 27 Jan 2020, 09:10 pm
Dance, Film Media Entertainment, Children, Auckland Region
Sessions every 10-20 Minutes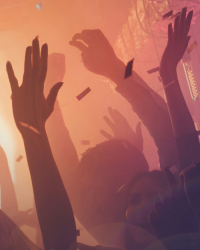 THE BEST DANCE PARTY YOU HAVE EVER BEEN TO. YOUR TIME STARTS……NOW!
This interactive dance party for all ages invites you to have the most fun possible, in just ten minutes! Shimmy, shake, bop and groove inside a converted shipping container, right here in Aotea Square.
Led by one of Melbourne's most exciting creatives, Joseph O'Farrell (JOF) invites you to rally your whānau to the dance floor and celebrate the universal joy of having a boogie.
Fun for the whole family!
This performance contains strobe lighting and haze.
"At the beginning we were all dancing just a little bit, but by the end of it we were all just pretty much raving and having a good time!" - 10 Minute Dance Party participant
PLEASE NOTE: Tickets only available on the door.
Event Dates
6 hours ago, Mon 20 Jan 2020, 01:30 pm
Mon 20 Jan 2020, 09:10 pm
Tue 21 Jan 2020, 01:30 pm
Tue 21 Jan 2020, 09:10 pm
Wed 22 Jan 2020, 01:30 pm
Wed 22 Jan 2020, 09:10 pm
Thu 23 Jan 2020, 01:30 pm
Thu 23 Jan 2020, 09:10 pm
Fri 24 Jan 2020, 01:30 pm
Fri 24 Jan 2020, 09:10 pm
Sat 25 Jan 2020, 01:30 pm
Sat 25 Jan 2020, 09:10 pm
Sun 26 Jan 2020, 01:30 pm
Sun 26 Jan 2020, 09:10 pm
Mon 27 Jan 2020, 01:30 pm
Mon 27 Jan 2020, 09:10 pm